Birthdays at High Altitude Martial Arts are a great way to host a larger group of kids than you are willing or able to accommodate in your home. It's all of the fun, with none of the mess.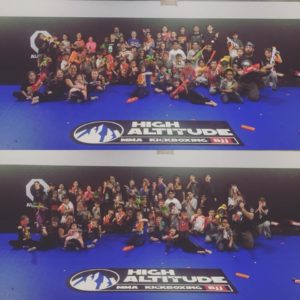 The Party
Our skilled instructors will lead the kids through an hour of fun martial arts games. Kids of all ages will have a blast running through obstacle courses, playing games, and learning practical self defense skills. We can customize your party activities and you are welcome to decorate!  Safety is our top priority, and we make sure to keep a ratio of at least one supervising instructor for every five children. After the games, it will be time for cake.
Bring as many friends as you want! Please let us know ahead of time how many kids to expect.
We provide the fun.  You provide the cake, food, and drinks.
The party is free for members.  Non members please contact us for a quote.  We will tailor a party to suit your needs.