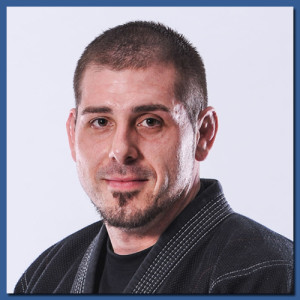 What made you get into martial arts? 
Well just like every little boy I was infatuated with karate movies. I would spend countless hours practicing impossible moves that would never work in real life. Chuck Norris and Bruce Lee were my action idols. Plus having an older brother who picked on you helped a little. I have always felt like martial arts was going to be a part of my future. There is nothing like it. It shapes and molds you and gives you something that nobody can take away.
Tell us about your journey/background/accomplishments?
My mom put me into Kempo karate when i was around 5 or 6. I studied for a couple of years and then my mother pulled me out. She then put me into wrestling in elementary school. I competed a couple times and then I stopped wrestling. As I got older I started to gain weight. My parents didn't want to let me try out for any school sports because they believed I could get injured. So I never played any sport throughout high school. During the years I continued to gain weight. By the time I graduated high school I was 310 lbs. I struggled with my weight for a couple of years. I started power lifting and watching the UFC. My friend and I padded his spare bedroom and started "training". After a couple of months I decided to find a gym. I went to a couple of gyms and took some free classes. Then I went to High Altitude. Once there I took a Brazilian Jiu Jitsu class taught by Nate Marquardt. I didn't fall in love with it right away. I was more so scared and unsure to sign up. But after a lot of deliberation, a couple of days later I signed up. I started taking class and really started to find myself and my game. After about 6 months I did a BJJ tournament. I came in first and this was all the start of my journey. I have done multiple tournaments since and I have always placed. I also have lost over 100 lbs and now have competed as low as 170lbs. After I got my purple belt I started coaching, teaching, and training MMA.. Everyone that I have coached or helped coach has been successful. I am now a brown belt and I am still coaching and fighting. My last fight ended with knock out of the night honors.
I have a couple accomplishments that I'm especially proud of. One has to be the physical and mental changes that I have had to overcome to get where I'm at today. The other is that I have lead the kids to be world champions in BJJ and have also coached several teammates to MMA titles.
What is your goal as a coach?
My ultimate goal as a coach is to try to dig as deep as I can and pull out the champion inside, and to show you how very special we all are. That with hard work and dedication we are capable of great things. No matter if you win, you lose, or you draw – as long as you gave me your best you are a winner.
What makes High Altitude Martial Arts special?
What makes HAMA special to me is that this gym has really help define me as a person. This gym is so different than the others that I have been to because of how close we all are. From the owner to the brand new student, they all are treated the same. There is such a sense of family and dedication and respect for one another, and from black belt to white belt we all help one another to achieve our goals. I have been with HAMA for 8 years and have no intention of leaving anytime soon. We create world champions.